RFID in a Warehouse Management Operation
RFID in a Warehouse Management Operation. Summary on using RFID and vehicle mount computer for a warehouse management operation. Data collection is performed in many environments.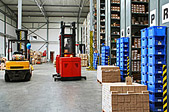 Some of these environments require that information be collected while in a mobile location such as car, forklift, truck or just a cart. Most of these locations are not so PC friendly and would require a rugged industrial computer.
Since the data is collected in a mobile fashion, the rugged PC needs to be connected to a network for real time data collection with RFID and/ or barcoding. Wireless vehicle mount computers can have multiple real-time connections such as cellular (GSM and GPS) and WiFi.
WiFi connection enables the rugged mobile PC to act as a workstation on wheels. Prime example would be using the wireless vehicle computer in a warehouse operation. The interactive information exchange can be used for many RFID warehouse management software functions:
* Receiving
* Put away
* Cross-docking
* Inventory maintenance
* Picking
* Shipping
* Inventory Count
As each functions is used, an operator can update the host main inventory data base with the latest product movements. With inventory being continually up-to-date, web purchasing can reflect the most current available products for sale.