User Friendly Wander Management System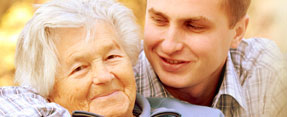 WanderTrack™ is a complete, simple and user-friendly wander management and resident tracking system.  The system provides various health care and senior living facilities with a reliable and efficient tool to monitor patients and/or residents from wander away and to address resident safety policies.
The key features and components of the wander management software are:
Wander management
Remote or personal alarm
Console center for monitoring
Door access control and monitoring
Choice of personal transmitter including Intelligent Clothing
Personalized access and egress rights per profile
Low power usage for secure and long term usage
Integrates with various wired and wireless networks for cost effective expandability
Resident Tracking
Outdoor coverage
Low cost starter package
Whether it is a residence, an assisted living facility, a skilled nursing facility, or a hospital, the WanderTrack™ RFID application is right for you and your budget.
RFID at the Core of Resident Tracking Software
The wander management system uses wireless RFID technology in several frequencies including UHF which is very noise resistant.  The building block components are stand-alone or can integrate into existing wired or wireless infra-structures.  This technology provides economic and low cost starting installation and provides for unlimited future expansion. With the cost of senior care monitoring and resident tracking, WanderTrack™ with a RFID network has a quick ROI (return on investment).
WanderTrack™ Easy Setup
The RFID areas of the residence, or campus or facility are mapped using WanderTrack™ console.  Areas can be designated as interior, multiple floor levels and also exterior boundaries.  Resident tracking or personnel monitoring is initiated by associating the transmission device (wrist band, necklace, Intelligent Clothing, etc.) to a user profile.  Each patient or resident profile is entered into the wander management system with all their rights and schedules.  When both user profile and RFID areas are defined, WanderTrack™ monitors the movement and location of the transmission device.  Should the RFID enter out or into an area with a defined alert, the wander management system will automatically:
[bulletlist]
Issue wander alerts digitally
Send audible warnings
Voice dial assigned caregivers
Execute assigned commands to the access control systems such as doors or gates
[/bulletlist]
Quality of Life is the Benefit of Wander Management
WanderTrack™ is a revolutionary wandering management system that is changing the ways residents or patients are being monitored.  With its quick and simple installation and unobtrusive transmission device, wander management and patient tracking provides an at risk resident with the freedom and quality of life that was unattainable just a few years ago.
"One of the hardest parts of being an Administrator is having to ask a potential at risk resident to leave our facility because of the risks associated with wandering. Now I will not have to have that conversation again–thanks to WanderTrack™!"
— Robert Bennett, Clydesdale Senior Housing Management Group, LLC —