Narcotics tracking with RFID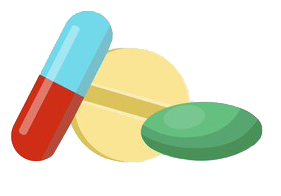 Narcotics tracking with RFID from Silent Partner Technologies is the only way to ensure no manipulation of the system. While other Prescription Drug Monitoring Programs (PDMPs) offer narcotics tracking, they require "human Intervention" across the entire process. Narcotics Tracking with RFID is the only way to ensure Real-Time 24/7 365 monitoring of your narcotics. Chain of custody and flexibility that works with your protocols and operations. No reinventing policy and procedure to accommodate a monitoring system.
What is RFID?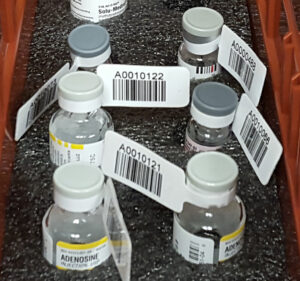 RFID stands for Radio Frequency Identification and is just as it sounds. A passive UHF RFID tag is attached to the narcotic or item to be tracked. When it gets within range of an RFID Reader it is "Energized" and the tag information is read. There is no transfer of data other than the Tag ID encoded to the RFID tag. All pertinent information is kept safely in a secured database located in the cloud. The solution is accessible by any device with a internet connection and browser.
Narcotics Tracking with RFID 24/7 365 Monitoring!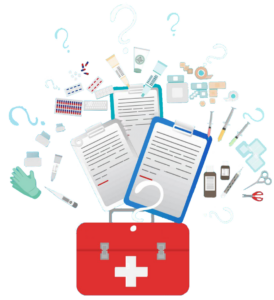 Narcotics storage area(s) are tracked in real-time 24/7 365 with fixed RFID readers. The narcotics are tagged with RFID labels and read ever second or two. This data is then sent to the cloud solution. Actions can be defined such as if an item goes "missing" alert someone immediately or if an item is in the wrong location, etc. Virtually any action can be defined and alerted on.
Narcotics Tracking with RFID Chain of Custody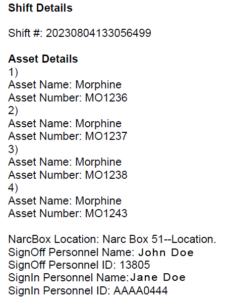 For narcotics the chain of custody or hand-off from one person to another or one location to another is tracked via handheld readers or fixed readers installed on the apparatus. The system also allows for a combination of the two and gives the client even more visibility.
In the instance of hand-off from one human to another (shift change) the change of hands is logged with a tablet and done on the cloud application directly. Either user can sign into the device as the hand-off has double signature capture of the signing off person as well as the person signing in. Sign in can be with a traditional user name and password or a pin number. ADFS and active directory are supported!
Narcotics Tracking with RFID Run Log
The last piece is the run log. What was used on the patient and what was "wasted" (not used, and to be disposed of). Without the RFID component this is an extremely manual and time consuming process. Furthermore there is virtually no accountability with paper trails and verbal acknowledgements. The RFID tag is the verification! A Run Log that the personnel fill out is kept electronically. All transactional history is logged as well. This gives full visibility and recording of all dispositions of the narcotics from cradle to grave.

Check us out on Facebook for more articles!