RFID Forklift safety is a liability issue that large warehousing operations must constantly follow and resolve. With our fast paced "need it now" mindset, we sometimes move a little too fast and certainly in an area where forklifts are used, it can be very dangerous. Carrying large loads can sometimes obstruct vision or reading information from a screen on a forklift computer can deter an operator's attention for just a few seconds.   All these normal operations can be hazardous to by-standing employees.  As such Silent Partner Technologies has developed an RFID safety tool to alert employees of an an oncoming  forklift.  This is a must have for anyone concerned about Forklift Safety.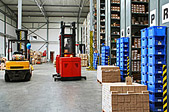 The solution is effortless to implement, and requires no IT support.   The system is made up of three components: the Silent Partner Technologies  RFID reader and its associated RFID tags, along with the appropriate light which is selected by user.  The RFID readers and tags are user configure-able for each and every unique "zone"/""area"", and installation is  very simple.  Essentially as forklifts near an area, the lights will alert any passer by immediately thus preventing a potential harm.
If you're looking to improve your Safety Standards, then this RFID Forklift solution is for you.