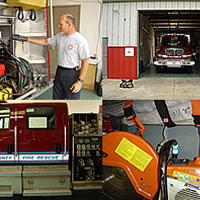 Firehouse Solution
. Silent Partner Technologies™ (SPT™) can provide your fire department with customized software to manage and track all your inventory and equipment. You will never again be concerned about the location of a vehicle or the number of first aid kits available.
RFID asset management
makes asset management easy and reliable.
Benefits of SPT™ IntelliView™ Asset Management Software
The Fire Department solution will help you manage your fire service more efficiently no matter what the size or number of locations. There are many advantages over a manual system:
The RFID feature means you no longer have to worry about actually seeing the item to be able to account for it
You know the exact location of all your consumables and equipment
You know what personnel are using the equipment
There is seamless integration of tracking both consumable inventory and equipment, from flashlight batteries to ladder trucks
You can receive alerts for maintenance schedules, inventory levels, expiration dates, or activity indicating tampering with equipment or unauthorized relocation
From a management point of view, there are additional benefits:
This software solution is offered in modules giving you the flexibility to choose and pay for only those functions your service needs
All functions you choose are tailored to meet your particular needs
You have access to real time, complete, accurate data for individual stations or all the locations
There is SPT professional support from the initial consultation and business analysis through to implementation
All installations include a period of thorough testing to ensure maximum performance of both the software and RFID hardware
There is onsite training for all current personnel who will use the application and there is web-based training for refresher sessions and new employees

Results from Using SPT™ Asset Management Software
Not only will you know where all the equipment is, you can be confident of its state of readiness for the critical missions in your daily routine. Departmental managers will also be pleased with the impact on both operations and the bottom line:
All necessary supplies will be available and positioned where needed
Vehicles will be maintained according to an automated schedule
Shared equipment will not be 'lost' between fire stations or departments
Time saved by automating asset management and tracking results in increased productivity and cost effectiveness
The SPT solution significantly increases the accuracy and completeness of the data collected

Start Now with Your SPT™ RFID Solution in your Firehouse
If you are frustrated with the messiness of a manual system or the slowness of a partially automated solution, it is time to speak to representative from SPT™. The Fire Department software package will cover every piece of your consumable inventory and equipment. Once the system is installed and implemented, you and your colleagues will be free to turn all your attention to your primary job of emergency response.