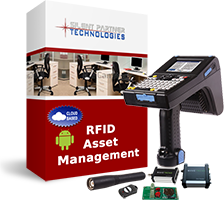 There are numerous advantages to using RFID technologies from a company such as Silent Partner Technologies for asset tracking and management. When simpler barcodes are not adequate for the job, one of the many RFID applications developed by this industry leader can provide the necessary control of assets and inventory. There is an RFID solution suitable for every business need.
What is RFID Tracking?
RFID applications use radio frequency identification (RFID) techniques. Each item to be monitored or tracked is tagged with information specific to that item. The information from the tag is transmitted by radio waves to a reader, and can then be adapted for many applications.
There are many advantages to using the RFID Asset Tracking technology for inventory management:
Real time tracking of inventory is possible
Tags can be read from a distance or from as close as ¼ inch
Line of sight is not necessary for accurate reading
An employee does not have to spend time at a fixed reader in order to collect data
Tracking time is reduced
Specialized applications can be incorporated, such as alerts about tampering or extreme temperatures
Precise location of an item is recorded
Expensive equipment can be continually monitored to reduce theft
RFID tags are not usually affected by environmental factors, such as dust and dirt
SPT is a leader in the inventory management field, and understands the many RFID options available. The company uses that specialized knowledge to work with clients to implement the right solution to improve each customer's efficiency and productivity.
Sample Applications
RFID applications have been applied to both large and small business, and a variety of industry needs such as:
Passive RFID technology used for tracking military training simulators
Active RFID technology used to track cargo shipments across the continent
Real time tracking of valuable artwork being transported across the country
Track equipment and assets in a hospital setting to reduce costs of locating equipment and purchasing new equipment
Contractors and repair services track expensive tools
Identify location and use of heavy equipment in a warehouse to maximize availability
Monitor equipment status and restock essentials in a firehouse
Follow progress of vehicles as they move through a production line
Track of pharmaceuticals in warehouse locations
Manage inventory and location of livestock and pets
A company searching for a cost effective, efficient and accurate approach to inventory and asset management should contact an SPT representative to explore RFID applications available. Working together, they can identify the best technology option for providing the information the company needs to improve production and the bottom line.