Heavy equipment tracking and managing logistics at a construction site is no less than a nightmare for the unprepared. Manual and traditional ways of management are no longer feasible when streamlining work flow, optimizing assets, managing time, and minimizing overhead costs are of primary importance.  Every wasted minute will still roll the counter and increase your expenses. You cannot let inefficiency come in the way of growth. This is where RFID for construction sites comes in.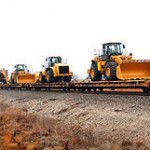 RFID construction equipment tracking software utilizes RFID, barcoding and GPS tracking to monitor all your construction material, equipment and assets right from the time they enter your premises, till the time the work is completed. The process is fairly simple and completely automated. All you need to do is affix an RFID tag at the time of induction, assign detailed data to each equipment, and you are done. The system will take care of monitoring your inventory and location of every piece of heavy equipment from a compactor, wheel loader, grader, scraper and bulldozer. You can even manage equipment across multiple sites. RFID for construction equipment tracking is helping many builders across the world manage their work better and take informed decisions.
RFID construction equipment tracking software gives a real-time picture of where your equipment and inventory is. Some popular advanced tools also give valuable details like: depreciation, equipment disposition (acquisition/retirement), maintenance schedules, maintenance history, audit trail, equipment cost, actual utilization, and more. It also generates automated reports based on your analysis requirements. All the information, right in your hands, just when you need it, will definitely help you manage your operations better.
You can save time and money with this affordable yet advanced technology for heavy equipment tracking on construction sites.