Polk County Fire Rescue will begin adding radio-frequency identification (RFID) technology to its product offerings soon, which will prove critical for inventory tracking. The breakthrough technology will provide real-time inventory location and also save between $20,000 to $30,000 a month on logistics monitoring.
Polk County Fire Rescue is continuously upgrading its technology used throughout the division and partnering with Silent Partner Technologies to add and test a system that would assist the fire rescue's logistics department in providing "real-time" tracking of supplies for each of its trucks was a no brainer.

"Adding Radio Frequency Identification as a control mechanism will add several positives to our Fire Rescue Department," commented Robert Weech, the Polk County Fire Rescue Chief. "Not only will it simplify and create greater accuracy from equipment and supplies tracking point of view, but it will also allow us to increase budgetary effectiveness and also save taxpayer dollars. RFID technology was long awaited by the fire rescue industry and I am happy to be part of the team applying it within Polk County Fire Rescue," said Weech. "Our logistics manager, Tera Knickerbocker, has done an outstanding job researching and implementing this project to vastly improve how our fire rescue team operates on a daily basis," he added.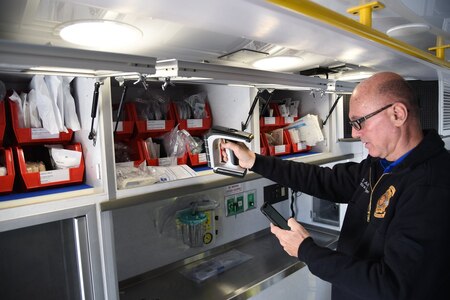 Costing approximately $4,000 to retrofit a single rescue unit will ultimately help contribute to a total savings of $20,000 to $30,000 per month in expired and wasted supplies across the division. This savings will be possible by allowing Polk County Fire Rescue's logistics department the ability to scan and track every item that enters and leaves its perspective place on the rescue unit, from life-saving drugs to the equipment used to intubate patients.
With this system in place, fire rescue units will timely be able to be stock up in accordance with the need that every item required on a rescue mission is used. For example, if Narcan (naloxone) Nasal Spray, a medication with a 90 day shelf-life, is more frequently used on trucks servicing certain zones and less on other trucks, then the supply can be adjusted and customized. This will avoid product expiration and waste in those units that do not use the drug so often.
RFID technology uses electromagnetic fields to automatically identify and track tags that are attached to objects. Each RFID tag consists of a tiny radio transponder; a radio receiver and transmitter. When scanned either by a hand-held reader or one of several strategically placed antennas in an apparatus, the tag transmits its digital data, which in this case is an identifying inventory number. This data is then sent to IntelliView, a specialized inventory program which tracts inventory numbers offering a "real-time" view of both the truck and overall division's inventory. Polk County Fire Rescue logistics personnel will then be able to access complete inventory data on any device from anywhere in the world with internet access, be it a computer or a smartphone.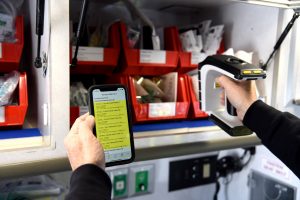 "This new program and process will put in place for our fire rescue division a more vigilant accountability mechanism and give the operating team a better command over our assets, medications, and equipment needs," says Tera Knickerbocker. Logistic Manager Polk County Fire Rescue. "As the science of firefighting and the knowledge of fire behaviors evolve, so do other aspects of fire service administration. RFID technology now gives us a way of advancing our system readiness in accountability and tracking. It will help us to reduce costs, make better use of taxpayers money and we will be equipped with a state of the art technology for managing our assets, be it accounting of equipment, medications or having a real-time overview of all our inventory."
Silent Partner Technologies, a developer and integrator of RFID asset and inventory management solutions, is a Tampa Bay, FL based company. It develops, manufactures and implements leading edge RFID and barcode asset and inventory management solutions. Among its credentials, it provides passive RFID technology for tracking military training simulation hardware, as well as active RFID technology for the tracking of cargo shipments from the Pacific coast to the Atlantic coast of Columbia, South America. The tested technology is even used for tracking and management of expensive RFID art assets across many retail locations on a real-time basis.