Mobile Medical Unit .
Synergy Med Global Design Solutions is selling a 40-foot mobile unit equipped with active and passive RFID and GPS to track the location of the podium and the items, supplies and people inside.
A team of companies led by technology company Synergy Med Global Design Solutions and its CEO, Ford Kellogg, has developed a healthcare mobile unit approximately the size of a shipping container to meet the needs of communities, hospitals, businesses or government agencies worldwide. The Mobile Clean Cube Container (MC3) is derived from Synergy's Smart Clean Cube solution for hospital operating rooms. The MC3 provides sterile, modular office space for healthcare services, while the location and status of the unit and its contents can be managed wirelessly via RFID technology.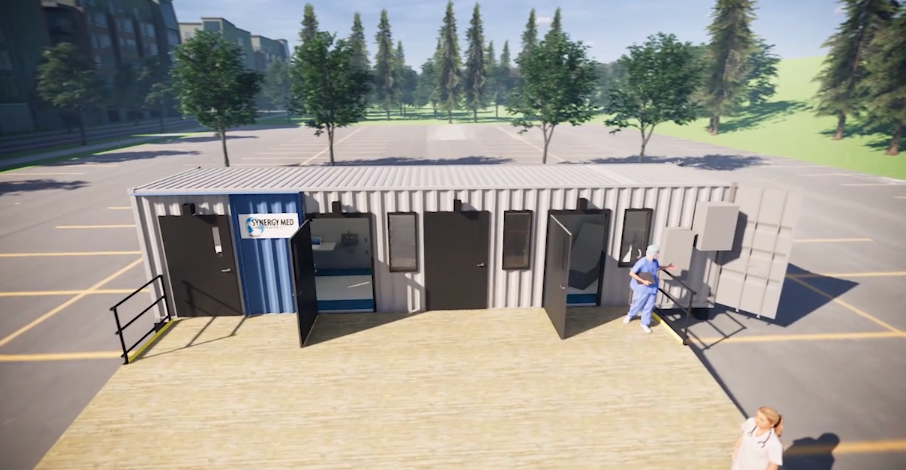 The MC3 solution is designed as a prefabricated clinical room or operating room that can be assembled on site. It is hermetically sealed, can be fogged up for sterilization if needed to eradicate viruses, bacteria and fungi, and uses RFID and Internet of Things (loT) technologies to track personnel, patients, instruments, devices and disposables. Each capsule will be equipped with active and passive RFID readers as well as GPS and mobile phone connections so that the capsules and the supplies and goods they contain can be located.
The RFD solution, provided by Better Building Data (BBD), uses hardware and software from Silent Partner Technologies (SPT). Two prototypes of the Pod were completed this month, and one was delivered by Woodmore Health Group to the University of El Paso Medical Center. The medical centre is now looking for two more units, and the City of El Paso is planning to purchase seven more. With the new pods, the hospital will be able to perform health services and see in the software which medications, consumables and high-quality equipment are in which unit and when they leave the premises.
Commenting on the LoT functionality, Ted Kostis, president of the SPT, said, "The goal, number one, is to know 'Where is the Pod? The company's solar-powered AP 1000 unit, which is built into the roof of the Pod, will collect this data and forward it to the cloud-based SPT software via a cellular connection. "The next priority is 'What's in the Pod? And then, "What is the temperature?" With a combination of active and passive RFID tags attached to goods and badges worn by people, Pod users will know what and who is in the unit and when they are inside.
The Pod is designed to serve as a modular hospital system, the company explains. It consists of a 40-foot container configured to treat patients during COVID-19 outbreaks, to screen employees who report to businesses, and to provide care for victims of military conflict and disaster relief. Synergy Med also offers a clearance and screening kiosk known as the Synergy Clear Kiosk. This kiosk can be used as a standalone access control device and can be used in conjunction with the MC3 device.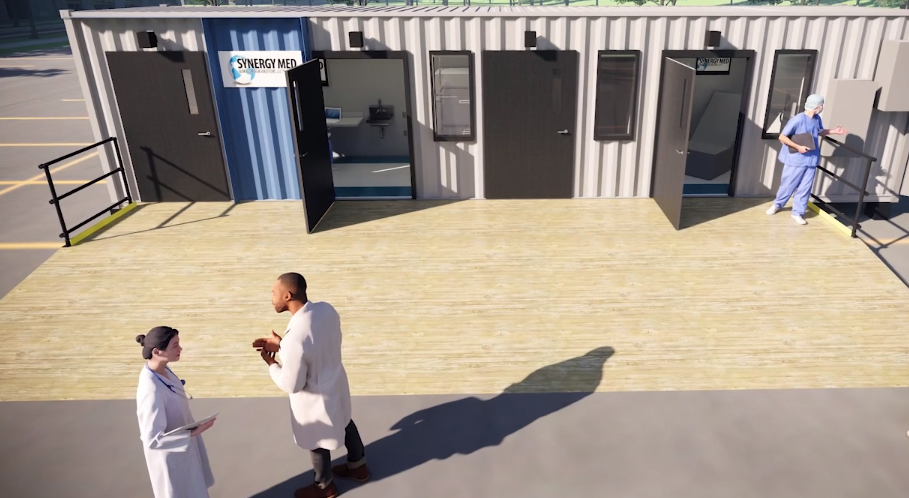 Synergy Med originally developed the MC3 pod for use by the military in conflict areas to ensure that health services can be delivered close to the front lines when and where victims need them, according to Thomas Hudson, the company's Executive Chairman. According to Hudson, the goal is to "provide medical services close to military operations". Synergy Med contracted Hunt Electric to manufacture the mobile unit.

However, once the COVID 19 pandemic hit, the company turned the solution around to serve as pandemic medical support while continuing to market it for military purposes and natural disaster response. Hunt transformed a cargo container into a health care clinic by installing doors and windows, hermetically sealing modular walls to create up to four rooms, and installing a window for drive-on or walk-up service. The unit is equipped with air conditioning and heating, as well as a water supply for fresh and greywater.
Hunt already builds solutions for the U.S. Department of Defense and the U.S. Postal Service, and the company has taken on a role as prime contractor for the nacelle, says Benjamin Foreman, Lean Construction Manager of Hunt Electric. With the outbreak of the coronavirus pandemic, the focus was on building the unit to support the treatment or testing of COVID-19 patients, while at the same time allowing it to be used during natural disasters or other pandemics. Prefabrication company Ridge Systems, a division of GE Johnson Construction, is building the units at its Colorado site.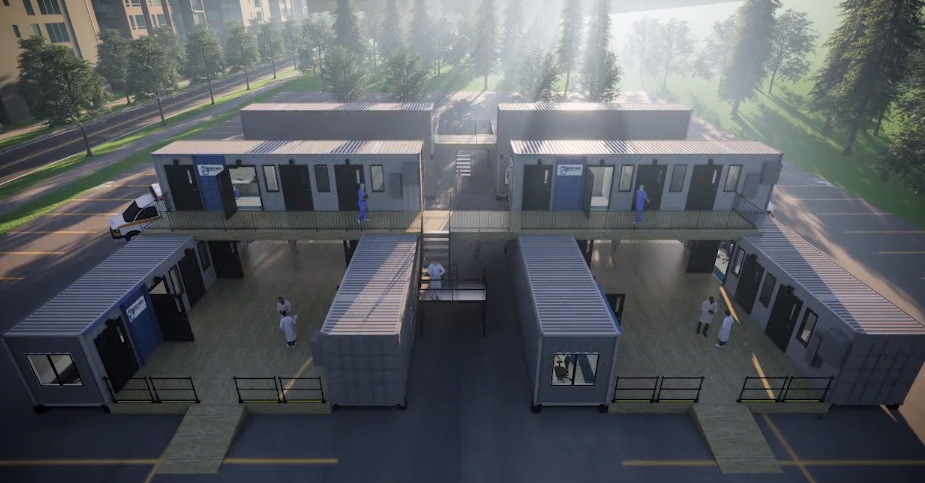 After Hunt Electric began building one prototype, Ridge built another. "We shared our experiences and solved some problems," says Foreman. "We had the information we could share." A primary consideration in the design was how the unit could be made flexible for a variety of applications and in large quantities. Therefore, according to Foreman, "the interior is designed like a laboratory, an operating room or a cleanroom. Demountable partitions can be moved to create examination rooms, drug storage areas, laboratories or surgical operating rooms. "It depends on what the customer wants to do with it."
Because it's a durable, long-lasting device, Foreman says it's expected to last a decade or more for potentially multiple uses. Synergy also wanted a system that could locate each capsule in real-time, wherever it was, and track assets, supplies and people within the unit. To provide this functionality, Hunt worked with BBD to develop wireless connectivity for the unit, said Rick Mann, digital asset management specialist at Better Building Data. BBD, in turn, has contracted with SPT, whose technology is installed in each pod.