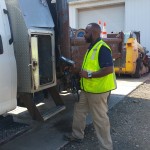 Equipment Tracking
Equipment Tracking. As one of the largest landscape companies in Central Ohio, Environmental Management, Inc. designs, builds, and maintains hundreds of attractive, quality outdoor environments for both residential and commercial properties. Our experienced and hardworking professional staff provides the most comprehensive array of landscape services available in today's marketplace – and they're dedicated to exceeding your expectations, everyday!
Below is a brief overview of how one of the largest and best run landscaping companies in Ohio, still found room for improvement of managing its equipment through the use of RFID.
Challenges:
1. Inventories were conducted annually.
2. The results were utilized to estimate future purchases only.
3. Time required for inventories of the main location took 10 individuals, 4 days to count at 9 hour per day. The last inventory was conducted in mid-January outdoors with in subzero temperatures with 3-4 inches of snow to navigate.
4. The inventory teams consisted of 6 members of management and 4 hourly laborers that worked snow removal up to 16 hours the previous day.
5. No visibility of exactly what we have—and most importantly "where".
6. Weekly inventory and vehicle inspection of company's trucks conducted on Monday only. They are also done on the honor system.
7. Inventories and checklist complete with pen and paper. Numerous incomplete or illegible forms. 25% of all forms contain discrepancies.
8. No efficient method to manage service related tasks such as preventative maintenance, and or general repairs.
9. As of February, a weekly spreadsheet was created to keep member informed of tool distribution. Tracking tool requires 6 man hours to complete on a weekly basic.
10. Operations Managers utilized the tool zero times. A total waste of time!
Solution:
1. No need for annual audit as most items are scanned daily. Others are scanned weekly, and minimally once per month. Essentially the data for Vehicles is only hours old, items in the warehouse are scanned weekly and worse case for items on large jobsites at least once per month.
2. Time required to validate/check out a Vehicle is now done in seconds vs not doing it at all. Essentially the process today with RFID is to count/check out the vehicle to a driver with all the specific assets—this is done in less than 45 seconds. The process is then repeated when driver returns so as to catch the problem immediately vs. potentially never.
3. As a direct result of the fast Check In/Out, there is now a built in deterrent, and more importantly we know exactly where each asset is at all times. Furthermore the SPT Audit Trail shows us "cradle to grave" tracking through its Transaction detail. Essentially we have the entire history of an item—every service ticket, every location it's been to, et al.
4. All Operations managers have visibility of all tagged assets.
5. New process in place to investigate any lost, stolen, or fatality damaged tools.
6. Goal is to cut lost tools by a minimum of 50%, which in turn means less replacement costs.
7. Excellent deterrent of internal theft or shrink.
8. Helps to reinforce the "culture of accountability" at EMI.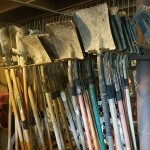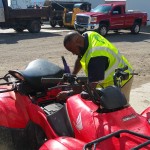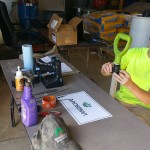 For more information please contact us:
[email protected]
(888) 428-5301