The Silent Partner Technologies™ RFID Forklift Safety Products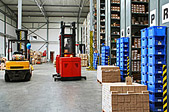 With SPT's latest RFID technology, liability issues behind large warehouse operations become a thing of the past, with it goes hours of wasted time.
Keeping up with orders and daily client demands is exhausting and so is trying to keep your workplace hazard free, especially where forklift safety is concerned.
OSHA estimates 85 fatalities per year–and 34,900 serious injuries–from forklifts alone!
Statistically:
[bulletlist]
25% of those injuries come from the employee being crushed between the forklift and another surface.
11% involves an employee being smashed between 2 forklifts.
10% of the injuries come from employees being struck or run over.
[/bulletlist]
Every single one of those injuries could have been prevented if the warehouse operator had invested in our RFID Forklift Safety technology.
The best part: The solution is effortless and requires zero IT Support.
Silent Partner Technologies™ will provide you with the 3 key elements you need to immediately improve forklift safety standards in your warehouse:  1.) An RFID reader, 2.) the associated RFID tags, and 3.) our unique warning light system.
It's as easy as 1-2-3!
Forklift operators have a lot to pay attention to. They need to lift heavy loads without dropping them, navigate narrow aisles, avoid obstacles, and they have to do it all quickly. The problem is; forklifts are notoriously hard to see out of. Large boxes can block the front, the driver relies on dinky little mirrors to see out the back, and the whole design is riddled with blind spots.
You cannot make the machine safer, but you can make them safer to be around.
Forklift operators have one mission: To carry important cargo from one area to the other. Everyone else's job? Well, where the forklift is concerned, their one mission is to get out of the way.
But how can they if they don't know it's coming?
That's why having your forklifts armed with our RFID Forklift Safety technology is so important.
Simply attach one of our patented RFID tags to your warehouse forklift, input it into the system with the RFID reader, and set up the warning light alert system.
Once set up, the warning light will activate every time your forklift nears a corner–warning your other employees to stay out of the way.
The technology is top of the line, but the basic idea is simple: Keep every employee safe by taking the danger and surprise out of forklift operations.
And, unlike other forklift proximity sensors, Silent Partner Technology's RFID warning light system puts you in control.
We let you choose the warning light system that is best for you: Self-contained or remote. Our RFID tags are compatible with both units, making it easier for you to decide the best solution for your business.
Planning on expanding in the near future?
Not a problem.
Your forklift safety unit is pre-programmed to your initial RFID tags, but can be reprogrammed at any time to add additional tags.
Acquired another forklift? Just add another tag! It's that easy. There's no need to purchase the entire system just because one little thing changes.
You will love this technology.
Less in-house injuries mean fewer lawsuits which mean better insurance rates. No warehouse operator wants their business to be known as "the place where a worker died." Word of mouth is important in any field!
We've been in the industry for over 15 years. We've been a "silent partner" to warehouses all over the country. We've received countless success stories from our clients. We know what goes into running a safe, successful business.
If you're still wondering if this is the product for you, allow us to point out one more thing:
Our RFID technology can also be used as a Real Time Locating System (RTLS).
We at Silent Partner Technologies™ have developed a cost-effective RFID RTLS that works for both small and large distribution areas.
Have you ever lost track of a forklift in your warehouse?
Don't be embarrassed. It's actually the second most common problem next to employee injuries.
Forklifts may be large, but they're not always easy to find. And there's no guarantee that every forklift will be manned and just a call away. Parked vehicles or turned-off radios can make it impossible to find and assign a forklift to a job.
This issue leads to wasting precious time–and time is money.
Quickly locating forklifts in a warehouse or distribution center is essential to the efficiency of your day-to-day operations.
Our RFID Real Time Locating System (RTLS) takes the guess-work out of equipment management. As the name suggests, you'll always know where your resources are located–in real time. 
The RFID RTLS solution uses location-specific RFID readers, tags (affixed to your mobile asset), and a web-based tracking system and antennas to monitor and locate your forklifts–whether they're in motion or parked!
The system has been designed to operate in UHF mode to bypass heavily trafficked wireless networks. You will always be able to locate your forklift, no matter what people on the outside are doing.
Best of all?
Both systems are easily implemented with no need for IT resources. 
If employee safety and quickly locating your resources are at the front of your priorities, then the Silent Partner Technologies™ RFID System for Forklifts may be the solution for you.
Have questions or want to buy the system?

Feel free to Contact us with any questions or if you would like to purchase a standalone system you can do so below.
SPT™ Safety Light Kit Options
Note: Each SPT Safety Light Kit contains (1) RFID Reader, (1) Safety Light, (1) Siren, (1) Nema Enclosure and (3) RFID Tags. All purchases are final, returns on electronics are not permissable. Software is configured before being shipped, however an instruction sheet and software will be provided upon request should you need/want to make additional configuration changes.