Fleet Tracking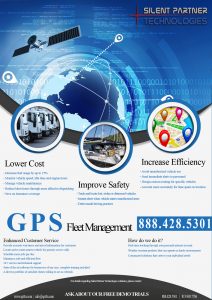 SPT GPS fleet tracking solutions allow you to view the exact location of your vehicles anywhere, anytime, 24/7. Our intuitive interface offers an easy-to-use dashboard from which you can view information on one vehicle or a group of them. The web-based tracking site includes a map view with street level availability as well as weather shown in real time. Know where your fleet is at all times, closest vehicle to your location and weather to boot! In addition, admins can configure alerts that will contact the management team via email or SMS if the system detects a problem with the vehicle's route, engine, speed or performance. Knowing the exact location of any vehicle in your fleet in real time.

Raise Productivity & Lower Costs
Real-time data for improved visibility and decision making, the potential for lower insurance premiums (check with your agent), reduce fuel expenses by recognizing increased speeds and unnecessary idle times, monitor time spent at each location.

Real-time 24/7 Tracking
Real-time easy to use tracking through a secure, password protected internet connection from any mobile internet connected device. We offer a customized solution that caters to your needs with no contracts. We build a relationship with you to ensure you get the most out of your GPS solution!

Driver Behavior, Safety & Security
Whether it be vehicle's route, engine, speed or performance detect problems and get an immediate alert based on fleet tracking criteria defined by you. In addition you can monitor driving behavior in real-time. You can also monitor vehicle specific information like odometer, battery voltage, fuel levels, etc. (may vary from vehicle to vehicle)

Reporting
Easy to use fleet tracking reporting platform allows users to generate reports in minutes. Personalize your reports to suit your needs/wants. Reports and alerts for routine maintenance based on hours/miles. Email or text reports with our robust report system.